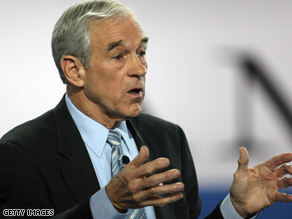 CNN
Ron Paul's loyal supporters helped him set campaign fundraising records and capture more delegates during his presidential run than some of his high-profile Republican rivals. They even managed to briefly shut down Nevada's GOP convention earlier this month over a rules change controversy.
Now they've taken his latest book to the top of the Amazon.com bestseller list.
"The Revolution: A Manifesto", released earlier this month, is currently No. 1 on the Web site's list of top sellers, besting even Oprah's latest Book Club selection.
"Despite a media blackout, this septuagenarian physician-turned-congressman sparked a movement that has attracted a legion of young, dedicated, enthusiastic supporters . . . a phenomenon that has amazed veteran political observers and made more than one political rival envious," boasts the book's product description, adding: "Candidates across America are already running as 'Ron Paul Republicans.'"
Here is an interesting quote about the above mentioned GOP walkout at the Nevada GOP State Convention from the
Reno Gazette Journal
:
Paul spokesman Jeff Greenspan said the walkout was a first in his 21-year career in politics.
"I've seen factions walk out, I've never seen a party walk out," he said. "I've never even heard of that."